"Progress" Reported In McCoy Talks
September 22nd, 2014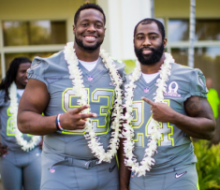 See, there was good Bucs news over the past few days. You just were too busy crying to see it.
CBS Sports dove into the details of the Bucs working to re-sign Gerald McCoy and positive messages emerged.
Jason La Canfora did extensive reporting on the matter and how it relates to fellow manbeast Ndamukong Suh landing a new deal, as well. Both McCoy and Suh could become unrestricted free agents after the season.
La Canfora explains the Bucs have more than enough cash to comfortably sign McCoy and things are moving forward.
McCoy's price tag also is hefty, but the Bucs spent a large part of the offseason shedding high salaries (Darrelle Revis, Donald Penn, etc), they don't have a quarterback making anything more than back-up money, and if they draft one high in May — which seems like a certainty at this point — he will be a bargain as well. McCoy is without question the face of the franchise. The Bucs don't have anyone to whom they still owe big chunks of money. They have about $30M in cap space next season and roughly $58M for 2016 projections, sources said, and have almost no players with big signing bonuses, either. So their cap prorations on their best players are manageable and all are essentially on year-to-year deals and easily released without cash or cap ramifications.

They're well-positioned to take on a huge contract and, after looking like one of the worst teams in the NFL through three weeks, look like they will be in need of some positive news in 2014, too. Talks remain ongoing and progress is being made, sources said. McCoy counts $15M against this year's cap (he makes $13M this season and Suh makes $12.6M), so his franchise tag would be more manageable, but that's not the route either side wants to go in this matter.
Get it done, Bucs. Outside of making a blockbuster trade for a true franchise quarterback, Joe can't imagine a better use of Team Glazer's money.