Becht: Glennon Growth Will Be On Display
September 22nd, 2014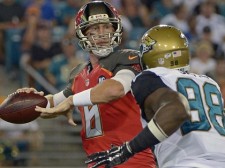 It's all about No. 8, the lean, mean, pocket-passing machine out of North Carolina State.
The Bucs' new starting quarterback (hopefully) is good enough to get the Bucs winning football games again.
That's the word from former Bucs tight end Anthony Becht, who's a busy man working for ESPN and the Buccaneers Radio Network, among other gigs. Becht says an improved Glennon should be on display.
"Just going off last season, I thought he was protective of the football. You know, he didn't do anything stupid. And we had an opportunity in the football games to at least have a chance. You know, I think he's grown, honestly, taking a step back with [McCown] there. Now maybe not off Josh's play but definitely classroom and getting himself prepared to be a better football player, Becth said this morning on WDAE-AM 620.

"Now will Mike go out there and be a different guy and help us win football games? I think he's good enough. He definitely has the weapons around him."
Joe found it noteworthy that Becht was unsure Glennon grew "off Josh's play." Actually, Joe thinks Glennon surely did learn and grow from McCown's play. One can learn a lot from the boneheaded throws and high school decisions of others.
Joe's not quite sure Glennon has better weapons than he had last season. There are injuries and issues in the backfield and at receiver. However, Joe is confident the blindside protection of Glennon should be an upgrade. And that should be significant for a statuesque kind of QB.