Managing Martin's Injury
September 13th, 2014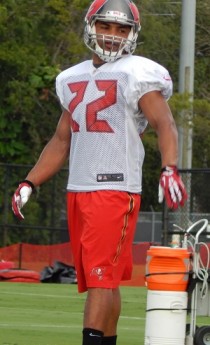 There are official injury reports, and then there's a player talking directly about his injury. The latter provides a lot more information.
Doug Martin detailed his issue and status last night on the Buccaneers Radio Network.
Martin explained that a Carolina player landed on his leg, he felt pain and probably should have called for medical help in second half Sunday. However, Martin said, he pressed on. And after screwing up a blitz pickup –"that play did not go my way" — he called for trainers.
Those trainers examined and taped up Martin's knee. He returned briefly but realized his injury was debilitating.
"I went back out there and I couldn't do it, couldn't go, couldn't be as efficient as I wanted to be to benefit the offense," Martin said. "I've been rehabbing it day by day. Right now I'm feeling good, feeling good, still taking it day by day."
Martin said he was "was able to run a couple of plays" in practice on Friday.
Joe sure didn't get the vibe that Martin is ready to go pound the rock 20 times tomorrow, like Lovie Smith surely would be ecstatic to see happen. And then there's the matter of the Bucs playing in Atlanta on Thursday. It may not be wise to push Martin and then turn around and expect him to do it again in four days on the Georgia Dome turf.
Look for the 2014 rushing debut of Mike James on Sunday. He is healthy and played special teams last week after a preseason shoulder injury.