"But We Have To Win"
September 13th, 2014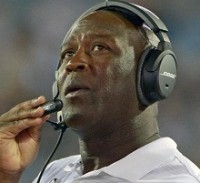 Wacky as it might be, many Bucs fans and observers believe a loss at home to the bruised, bungling Rams tomorrow would be an apocalypse to the Lovie Smith regime.
One longtime local analyst says failure "would almost erase all the goodwill established by Lovie."
Man, that seems harsh. What next? "Fire Lovie" billboards across the Tampa Bay area if the Bucs start the season 2-4? You never know these days.
WTSP-TV, Ch. 10 sports anchor Dave Wirth dives into the Bucs game in the video below, where he talks about the Rams-Bucs matchup and delivers his must-win address.