Logan Mankins = Keenan McCardell
September 5th, 2014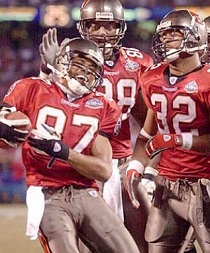 Bucs godfather Derrick Brooks likes the recent Tampa Bay trade for Pro Bowl guard Logan Mankins, whose arrival instantly turned the Bucs' offensive line from a horror show into a riveting drama.
In fact, Brooks explained that he got a very Keenan McCardell vibe from the whole transaction.
Speaking Wednesday to the dean of Tampa Bay sports radio, Steve Duemig of WDAE-AM 620, Brooks talked about how Mankins isn't what he was in his prime, but is still an excellent player that brings a lot more than strong play, much like McCardell was when he arrived in Tampa just before the start of the magical 2002 season.
"[Mankins] is not that player that I played against, and I'm not going to sit up here and fool our callers. No, he's not, but he's good enough for what they need right now," Brooks said.

"I liken this trade very similar to how we got Keenan McCardell. His best years were with [Jimmy] Smith up in Jacksonville, the dynamic duo that caught a lot of balls. But we got Keenan right at the brink of, 'We don't need him to be dominant, but he's good enough in moments to take over and be dominant, but not have the pressure of being the No. 1 all the time.' And I think that's kind of how I compare the signing of Mankins for this offensive line. Because we needed that for that position.

" Obviously, Keyshawn [Johnson] was the No. 1, but Keyshawn needed to play beside a proven veteran that could match him with for wit, command the respect that he needed and Coach Gruden needed that. So as I saw this transaction, I wondered if this is like how we got Keenan McCardell for what it meant to our offense. Can Mankins be that for this offense?"
Previously, Brooks said he likes the signings of Anthony Collins and Evan Dietrich-Smith because they represent veteran free agents on the rise with, presumably, their best football ahead of them. The strong implication was that Mankins, sandwiched between them, will improve their play.
Joe agrees with Brooks, but Joe wonders who newly-smiley Mankins feels about everybody across the country talking about how his best play is far away in the rearview mirror. Joe sure hopes that's got him angrier and hungrier for Sunday.