The Gamble Of Anthony Collins
September 5th, 2014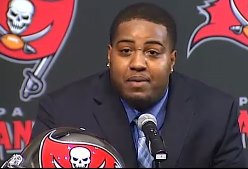 One reason Joe isn't quite sold on Bucs left tackle Anthony Collins is his abbreviated resumé. Joe means abbreviated in that Collins has never been a full-time starter and the most starts he's had in a season is seven.
Joe is pretty lousy at math without a calculator but even Joe can piece together that Collins has never started half a season in the NFL.
The man expected to protect Bucs quarterback Josh McCown's backside must prove not only he can play 16 games, but play them well. Former Bucs defensive linemen Booger McFarland and Steve White are not sold (yet) on Collins, but neither is the "Custodian of Canton," eye-RAH! Kaufman of the Tampa Tribune. Kaufman joined McFarland and White on WHFS-FM and discussed the Bucs' new left tackle.
"You mention Anthony Collins gentlemen, lets talk about this guy for a minute," Kaufman said. "The Bucs gentlemen, have not had a lot of success — let's be honest — the last three or four years in getting the guys they have targeted in free agency. It really hasn't worked out with the big exception of Vincent Jackson.

"The other guys, Carl Nicks got hurt, there have been some mistakes. Dashon Goldson has a lot to prove. Eric Wright was a disaster. We will see about Collins. I will tell you this: We will know a lot about Collins in the next two weeks because he will be facing Mr. Hardy and then Robert Quinn in Week 2. I thought Collins was OK in the preseason.

"He hasn't shown me an awful lot. … I think all you have behind him is [rookie tackle Kevin] Pamphile. I will throw this out at you: If Rishaw Johnson gets the job done at right guard and you still have [Patrick] Omameh on the roster, if something happens to Collins, at that left tackle guys, you know how important that position is, I think they move [left guard Logan] Mankins there, I think that's what they will do. He has played [there] a little bit in New England and in college, that is all he played. If Collins struggles or gets hurt, I think you see Mankins there."
Well, to be fair to Collins, he had zero help from any guard to his right. The best way to hang a left tackle out to dry on an island is to have a sieve to his right. That's what Collins was working with.
Let's see how Collins plays, not just against Hardy and Quinn, but alongside Mankins. Remember, offensive lines take time to develop. So Joe couldn't write off Collins even if Hardy and Quinn turn Collins into a turnstile.