Kirwan: Buccaneers 20, Panthers 17
September 5th, 2014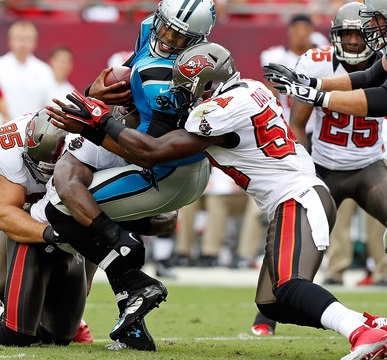 Last year against Carolina, Greg Schiano preached "contain, contain, contain," but the Bucs failed miserably. Newton got the edges and more and ran free.
Former Jets personnel man and linebackers coach under Monte Kiffin, the esteemed Pat Kirwan, says he's gone to the film room on Lavonte David and believes David can not only contain Newton on Sunday but confuse the Panthers with his versatility in all phases of linebacker play.
Kirwan likes how David seemingly has no weaknesses and can disguise his intentions. You can watch Kirwan break down Sunday's matchup below with prickly Pete Priso of CBSSports.com.
Kirwan calls a Bucs victory, one of a many he expects this season. The shaky Carolina safeties, he says, will have a massive challenge with Mike Evans and Vincent Jackson.
"Those safeties are going to have bail off the hash marks to help those corners or [Josh McCown] is going to have field day on the outside like he did with Alshon Jeffery and Brandon Marshall," Kirwan said. "I like where they're coming with this offense. They have nine new [offensive] starters from the last game last year. I just think Tampa Bay is ready to be one of those teams that makes a run to the playoffs. You can give me the Bucs 20-17.
"