It's All About the Defense
September 1st, 2014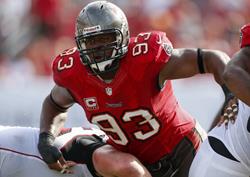 Joe lives in the 21st Century. This may come as a shock to some but, in fact, there is a sect of Bucs fans who seem to struggle with calendars.
Joe calls this sect the "Flat Earth Society." You know the ones: those who believe quarterbacks are meaningless and that defense rules all.
It's a cute concept, even though it is flat false (wasn't this proven time and again with Father Dungy?). Which brings Joe to Andrew Astleford of Fox Sports Florida. He has glorious news for the Flat Earth Society. The Bucs should be dominant defensively.
Defense will be the Bucs' strength. Preseason results were a reliable indicator that McCoy should have a big year, and David should follow up his All-Pro season with more growth. Still, questions remain about how well the offensive line will mesh. Mankins must adjust quickly, presumably as Tampa Bay's answer at left guard, and it remains to be seen how the Bucs will handle their situation at right guard. Smith and Licht haven't closed the door on the Richie Incognito option, so it will be curious to see if they go that route at some point if tempted.

The good news for the Bucs is this: Starters showed marked improvement on both sides of the ball in each of their first three preseason games. Expect them to be a dominant defensive team that hopes to complement that strength with solid special teams and good-enough offense. It's surprising they chose Murray over Barth for kicking duties, but other than that development, there weren't too many surprises in the trim to the 53-man roster. There's little room for error in the NFC South. Urgency should exist now.
As Joe has written since the winter, the Bucs' defense will be fine. Joe trusts Lovie to work his magic with the defense and the talent is there. It is the offense that concerns Joe. Joe's seen spurts in preseason but not enough to calm concerns.
And, no, Joe does not like the fact the team's offensive coordinator is out and not at full strength. This is downright troubling.