Special Teams Gambles Are Prevalent
September 1st, 2014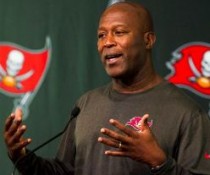 There's no fear in Lovie Smith, and that's evident by his numerous dice rolls on special teams.
Where should Joe start?
Among the highlights:
Backup running back Bobby Rainey appears to be Tampa Bay's top punt and kick returner entering opening day. Rainey has no regular season punt returns in the NFL, and he didn't catch any during his final two college seasons at Western Kentucky.
Anointed kicker Patrick Murray, the pride of Fordham University, was out of football last year and has no NFL experience.
Lovie has stated many of his linebackers and his fullback, if he kept one, would be counted on heavily in special teams. Fullback Jorvorskie Lane was out of football last year, and 29-year-old linebacker Danny Lansanah has two career NFL tackles.
It's no wonder special teams ace/wide receiver Russell Shepard, a Dave Wannstedt favorite from last year, was retained as the Buccaneers' sixth receiver. But on that front, Lovie has said his No. 5 receiver needs to be a strong special teams contributor. That No. 5 role seems to belong to rookie Robert Herron or Chris Owusu, who's never been a special teams asset.
All that written, the Bucs had a solid preseason at special teams, but they also didn't show anything special in that area.
Regardless, Joe appreciates Lovie Smith's willingness to gamble. He just has to win — while Devin Hester is a member of the Atlanta Falcons.