Will Gholston Enjoying Giant Lessons
August 4th, 2014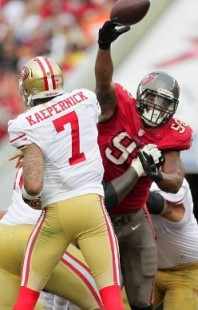 Monstrous second-year defensive end Will Gholston has few peers in the NFL at his position. Joe's talking sheer size.
Gholston stands 6-foot-6 and he's a chiseled 280 pounds, and looks more rocked up than last year. He told Joe his fierce workout regimen brought him to training camp at 280 pounds but only 10.1 percent body fat.
That's all nice, but being that big with long arms at defensive end presents unique advantages and challenges. In the past, Gholston said, he didn't have anyone to talk to about the nuances of playing at his great size. But that's changed. The Bucs signed free agent Michael Johnson (6-7, 265), and Gholston now has a mentor.
"I can look at him and ask him, 'Does this work for you?'" Gholston said. "It's a whole lot easier to be able to talk to somebody that's about 6-7, 6-6, at the same time. And he's a cool guy."
Gholston went on to say he hasn't learned much new this season other than a few different techniques. But he said the new coaching staff has an approach that gets more out of players.
Only a winning a starting job will satisfy Gholston, he said.