Lovie Non-Committal On Punt Returners
August 4th, 2014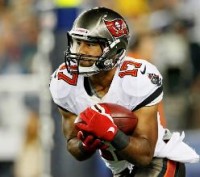 Lovie Smith loves to talk about how each position has a "starting rotation." That means there's an assigned starter, like Josh McCown, but allegedly every position is up for grabs (yeah, right).
But Lovie won't go there when it comes to punt returner.
Joe asked Lovie about that yesterday after practice, and Lovie said there is no starting rotation and he wouldn't serve up names in the mix to return punts. Preseason games, when the lights are on and the action is real, will determine Tampa Bay's top returner, Lovie said.
Fair enough. And Joe suspects Lovie is queasy after so many years of having Devin Hester (now on the Falcons) playing that role.
As for what's been happening in practice, Eric Page, the NFL's 13th-ranked, full-time punt returner last season, looks to be the lead dog. He's smooth and sure, and quick. At this time last year, Page was only 11 months removed from ACL surgery and had logged no regular-season snaps. Now, he's healthy and experienced, and just 22 years old.
But Page won't be gifted anything, and Joe suspects Lovie would be pleased to see rookie Robert Herron or Jeff Demps win the job. But both of them have displayed extreme ball security issues to date in camp.
Hopefully, there will be plenty of punts to be fielded against Jacksonville.