"Trust Lovie" Doesn't Apply At Guard
August 26th, 2014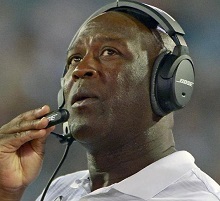 Richie Incognito is being scouted and probed right now by the Bucs, and if signed, legions of Tampa Bay fans will feel at peace, assuming Incognito doesn't reside on their street.
But why?
Lovie Smith and Jason Licht and their scouting team studied the guard position this offseason and determined that the best fits for Tampa Bay were Jamon Meredith and Oneil Cousins (prized unrestricted free agent signings) wounded Carl Nicks, fifth-round rookie Kadeem Edwards, plus no-NFL-snap candidates Jace Daniels and Patrick Omameh.
After one preseason game, Lovie announced Meredith was ousted from his starting job and would focus on the tackle position.
Keep in the mind the Bucs booted decent guard/center Jeremy Zuttah, waved goodbye to Ted Larsen, who happened to get hired in Arizona by Licht's old bosses, (Larsen started the Cardinals third preseason game at left guard.) and Davin Joseph will make the Rams and has impressed his new team.
Joe points this out because it seems legions of Bucs fans are pounding their chests saying "Trust Lovie. Sign Incognito." Sorry, but Joe doesn't trust Lovie when it comes to offensive lines. Defense? Absolutely. But not O-line, which was a huge weakness for Lovie in Chicago, and he hasn't proven he knows how to improve in that area.
Joe's poll of Bucs fans yesterday revealed about 80 percent are aching for Incognito. But why exactly is sleazy Incognito a sure bet to get off his couch at 31 years old and start playing good football under the added pressure of playing under a microscope from new teammates?
Is Joe or any fan supposed to bow down and believe the Bucs have solved their guard scouting woes? Even the offensive line coach, George Warhop, was in on the mess after he clearly endorsed bringing Cousins with him from Cleveland.
Joe's not without hope, though. Perhaps newcomer Rishaw Johnson was a steal?
Joe remains stunned that so many fans faithfully believe Incognito, if signed by Lovie, will represent the right football move.