"A Terrible Idea"
August 26th, 2014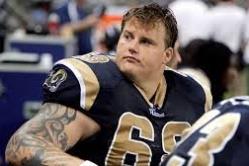 Not since the day Derrick Brooks was cut has there been so much Bucs fan buzzing — both good and bad buzz — like there was yesterday, when Tampa Bay faithful were ignited with the news sleazy Richie Incognito was in town for an interview at One Buc Palace.
Everything else — including startling news that offensive coordinator Jeff Tedford has a medical issue and his return is uncertain — was completely buried by the avalanche of Incognito chatter.
Talk about a slow news day!
Joe has made his views clear. So too has veteran Tampa Bay Times columnist Gary Shelton who documented what "a terrible idea" even thinking of signing Incognito is.
Look, this isn't the only team in the NFL that needs guards. It is, however, the first one to reach out to Incognito. Here's a question: Which player, exactly, would be a bad idea for the Bucs? Anyone? If the Bucs want an offensive guard in the worst way, well, they've discovered the way.

Think about it. Why would the Bucs make this move if not to see how close Incognito is to being ready to play? They certainly don't need to ask him more questions about the bullying. They don't need to swap chili recipes. Unless a team is serious about absorbing the heat, why bring in Incognito at all?

In a lot of ways, the question of why is equaled only by why now. The Bucs are the verge of their season, and only now is it clear how much the team has disregarded its guards. Davin Joseph was cut, and Jeremy Zuttah was traded, and it has been clear for a while that Carl Nicks would be unable to come back. So now, just before the games start to count, Incognito is a good idea?
The timing is very strange and frankly smacks of a panic move. For all the talk the Bucs organization spouts about wanting to be the pillar of community values and pride, signing Incognito just demonstrates how hollow if now shallow those words are.
Shelton sort of comes up with an ulterior motive as to why the Bucs are sinking in the muck that is Incognito: that it's a very public ruse to the 49ers that if they don't play ball and trade Alex Boone to the Bucs, the Bucs will just go ahead and sign Incognito.
Frankly, the Bucs have zero leverage. There are about 20 other teams hungry for guards but apparently are not as desperate as the Bucs. If Bucs general manager Jason Licht tried to strong-arm 49ers general manager Trent Baalke like that, Baalke just might send a new set of golf clubs to Licht and say, "Have fun with Richie."