Secrecy Of Tedford Offense Remains
August 19th, 2014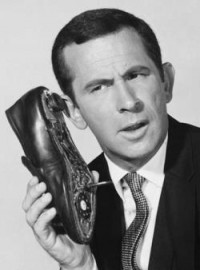 In some ways, Joe leans back in his comfy high-back leather chair in his home office and roars out loud. It's almost like a cheesy 1960s James Bond knockoff where a sixtysomething evildoer holds a hottie spy hostage in an underwater Caribbean lair in some diabolical plot to break out stolen nukes and rule the world.
Only this is the NFL and Jeff Tedford is the sixtysomething guy. But to the best of Joe's knowledge, Tedford doesn't have Rachel Watson lassoed in Lovie Smith's notorious basement, mainly because Floridians don't have basements.
That is not to say Tedford doesn't possess what some would have you believe is the NFL version of a secret weapon, his offense. Since Tedford was hired, his offense has been guarded with the secrecy and stealth of the Manhattan Project. Perhaps, someone forgot to tell folks at One Buc Palace when Tedford coached in college, most of his games were televised and sports networks often keep copies of their broadcasts.
Regardless, Tedford is an NFL rookie and that provides enough suspense to go all Mossad and brag how the offense won't be fully displayed until maybe late September. Apparently, per Bucs center Evan Dietrich-Smith, the Bucs are doing a good job of keeping Tedford's offense under a shroud.
"I'd say maybe 20 [percent]," EDS said of how much of Tedford's offense has been exposed. "We still have more things. Like I said, I think we did a good job. We moved the ball obviously a lot better. There was a few things we left out … the game plan probably went down a little bit for the second crew. But we're really not giving you everything we've got. There's a ton of stuff we've still got out there. I think a lot of teams have it that way. But Lovie's approach really isn't to go out there and show your hand right off the bat. He kind of wants to give you a taste here and there. But for the most part, we're in that 20-25 percent range."
Joe can't recall the last time a coach or a coaching staff openly bragged this much about how no one would see the offense until perhaps, three games into a season. Woody Hayes comes to mind, but to show how crazy the guy was, it wasn't as if anyone doubted Hayes would run the ball. What, Hayes might attempt nine passes in a game?
Just what can Bucs fans expect Tedford to unleash that the NFL hasn't already seen? The wishbone? Bud Wilkinson tried that stunt in the 1970s. Blew up in his face so bad he scrapped it halfway through his first NFL season.
One reason Joe laughs at the KGB-like secrecy is that, well, like a cheesy James Bond knockoff, this is sort of fun trying to guess. Joe can't imagine what Tedford can spring on the NFL that hasn't already been tried in some form before.
To hear more from Dietrich-Smith, click the red button below. Audio courtesy of Joe's friends at WDAE-AM 620.