"I Wouldn't Want To Say 100 Percent I'll Be Playing"
August 19th, 2014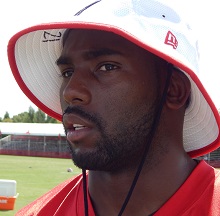 Getting Alterraun Verner on the game field and making his Tampa Bay debut isn't necessarily in the immediate future.
Verner explained to media today at One Buc Palace that he hasn't really tested his bum hamstring yet.
"I feel fine. I mean, it's going to see as we increase my reps during practice and see how I respond, but I wouldn't want to say, you know, 100 percent I'll be playing [against Buffalo]," Verner said this afternoon. "We're going to do what's best and see how I feel. But if I do play I can't tell you how long. I'm going to play as long as they need me to play. I look forward to being out there. Hopefully, everything holds up so I can play."

Verner said he feels good walking but can't say much about football playing.

"But actually full go having to make a quick reaction, that's something I can't tell until I'm actually at practice," Verner said.
Well, those are hardly encouraging words from the Bucs' Pro Bowl corner. It sounds like he's been healing for 3+ weeks versus the Bucs just keeping him off the field as a precautionary measure.
During his four seasons in Tennessee, Verner never missed a game or, as he told Joe, even a training camp practice.