Pats Players Depressed Over Mankins Loss
August 27th, 2014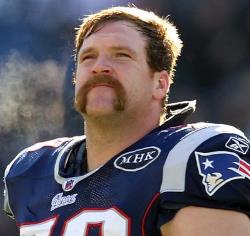 Bucs general manager Jason Licht and director of player personnel Jon Robinson both logged years with the New England Patriots serving Bill Belicheat. That's when Licht and Robinson got to know guard Logan Mankins up and close and personal.
In fact, likely no one who works at One Buc Palace knows Mankins the way those two do. So when Licht raved yesterday about what a solid citizen and teammate Mankins is, not only did Mankins sound like the anti-sleazy Richie Incognito, but it seems their take was dead on based on the depression in New England.
Just take a gander at some of the quotes cobbled together from Patriots players by Doug Kyed of NESN, it reads like they were leaving a wake after learning that Mankins had been dealt to the Bucs.
The Patriots' players were clearly affected by the news that starting left guard Logan Mankins was traded to the Buccaneers for a fourth-round draft pick and tight end Tim Wright.

"We understand it's a business, and we understand that we're here to play football and win football games, but there's still a human element there that exists," special teams captain Matthew Slater said Tuesday in the Patriots locker room. "We have to deal with that human element as best we can. Obviously many of us are good friends with him and his family. We understand it's a business for us all, and we have to continue to try to go out and produce and go out and play good football."

"It is what it is. He's always been a great teammate, great captain, great guy to learn from in the locker room," a downcast Julian Edelman said of Mankins. "It's the business part of the game. It's hard sometimes, but it is what it is. I wish him the best — him and his family. They've been great to me in my career. I just wish him the best."

"The atmosphere was a little down today about what happened today with Logan," cornerback Darrelle Revis said about practice. "But at the same time, you've gotta go out there and do our jobs. It's very sad. He's been here for a long time. I got a lot of respect for him from playing against him in the past. He's a class act, and that's how the business goes, and I wish him the best. I wish that we wouldn't even be talking about this at this point, but it is what it is. I wish him the best."
Joe cannot put into words just how good of an addition Mankins is to the Bucs.
First, he filled a serious void. Second, he is one of the best players at his position. Three, just from the words of those who know him and worked with him, it sounds like he's the type of player and teammate that will get guys to run through bricks walls.
All for a fourth round pick and a player who, in the years to come, was likely going to see his playing time reduced? Now that's what Joe calls a trade.