Cornerbacks Herd Is Rather Thin
August 27th, 2014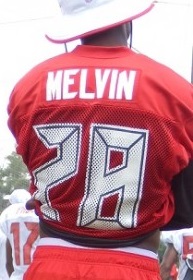 After a roster shakeup yesterday with cuts, additions and Danny Gorrer placed on injured reserve, the Bucs are down to 10 cornerbacks.
Two are injured. Will Tampa Bay keep seven to start the season?
Here's a look at who's still around:
Alterraun Verner — Pro Bowler made Bucs debut Saturday against Buffalo. Told Joe after the game he felt great.
Johnthan Banks — Top cornerback of preseason. Started each game and has been solid. Clearly can play in Lovie's system.
Mike Jenkins — Veteran has been sidelined with an unspecified "upper leg" injury since late July.
Rashaan Melvin — Walking boot for his bad ankle has been his fashion statement for a while.
Leonard Johnson — Been No. 1 nickel cornerback through camp and preseason.
Quinton Pointer — Serving as No. 2 nickel. Lovie has said two nickels aren't the goal, unless the No. 2 nickel can play corner effectively, too. Pointer was on the field with the Bucs first team defense on Saturday.
Anthony Gaitor — He's still here, so you never know.
Kip Edwards — Second-year undrafted guy was with Leslie Frazier and the Vikings last season.
Keith Lewis — Long rookie corner with speed who has been around for months. Undrafted out of Virginia/Lynchburg.
Marc Anthony – Just picked yesterday after being cut earlier in the season.
The roster must be cut down to 53 by Saturday at 4 p.m. Joe surely doesn't rule out the Bucs going after another cornerback. A big X-factor here is Leonard Johnson. Can he successfully play a major role this season? His 2013 was on the ugly side.