Mixed Messages On The Depth Chart
August 5th, 2014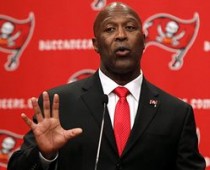 "Don't put too much into it," Lovie Smith said of the Bucs' first depth chart issued this afternoon in advance of Friday's preseason game at Jacksonville.
However, Buccaneers players Joe talked to about it today definitely take it seriously.
Last year's starting cornerback Johnthan Banks was listed a backup behind Alterraun Verner and Mike Jenkins.
"It motivates me, but, I mean, that don't bother me at all," Banks said. "I'm mean I'm here to play football, man. I want to win a championship, and I'm all about the team."
Banks went on to say, "I'll get my chance" and expressed appreciation for what he can learn from the veteran corners ahead of him.
Bobby Rainey, who has had an excellent training camp, is the No. 2 running back on the depth chart.
"[Lovie] just let us know [the depth chart] is there and it's real, but you have to keep doing what you're doing or you can easily drop," Rainey said. "It's good to know where I stand, but I don't get involved with that. I gotta keep doing what I'm doing. Where I'm at depth-chart-wise is fine and dandy, but as long as I know I come off the field and put everything on the line and got into position to make plays, I'm fine with that."
Yes, Lovie said more than once at his news conference, "Don't put too much into the depth chart," but it was clear to Joe that Lovie's players know where they stand and are paying attention — as it should be.