Training Camp Notes & Observations — Day 10
August 5th, 2014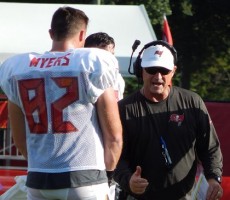 Bucs training camp marched on at One Buc Palace this evening. Of course, Joe was out there taking notes, thankfully under cloudy skies and in rain-cooled air.
Here's all kinds of news, notes and nuggets:
*The Bucs haven't displayed the smoothest hands in the NFL to date. In opening drills (no defense) rookie wide receiver Robert Herron records a drop on a well thrown Josh McCown pass. McCown also has a bad overthrow.
*Wide receiver hopeful Tommy Streeter wears a baseball hat today and sneakers.
*Da'Quan Bowers gets another day off, along with DE Scott Solomon. Bowers is not seriously injured, and this can't bode well for his Tampa Bay future.
*Alterraun Verner and Mike Jenkins, Nos. 1 & 2 on the newly released preseason cornerbacks depth chart, sit out again with injuries. Hamstring for Verner; leg for Jenkins.
*Eric Page leads the way in punt return work.
*Bucs' first-team offense opens up with five consecutive completions in 11-on-11 work. Passes short to Mike Evans, Doug Martin, Chris Owusu, Vincent Jackson, followed by a gorgeous bomb to Owusu for a touchdown.
*Luke Stocker with a diving catch of a Glennon pass over the middle with the second team.
*Cornerback Kip Edwards does a nice job in coverage on Tim Wright.
*Jamon Meredith lines up at right guard and Oneil Cousins at left guard in second 11-on-11 first team session.
*Damn, Gerald McCoy blows up Meredith inside but Evan Dietrich-Smith is there to help.
*Quick slant complete to V-Jax.
*Bobby Rainey run gets blown up by Gerald McCoy. Meredith can't handle him.
*Rookie left tackle Kevin Pamphile owns DE Steven Means in third-team work, just drove Means out wide for Mike James cutback run. Means slaps his hands in frustration.
*Rainey makes the third-team defense look like amateurs on three consecutive plays.
*Akeem Spence with a very hard tackle on Mike James.
*Drop! Tim Wright.
*Veteran Lavelle Hawkins may not make the roster, but he looks like a professional receiver. Very versatile.
*Adrian Clayborn handled consistently by Demar Dotson.
*Sweet short connection with McCown and Austin Seferian-Jenkins.
*Violent Stocker-Lavonte David collision.
*McCown to Evans on a seam route. Easy TD.  Safety Major Wright was late and took a bad angle.
*Demps gets behind 51 easily Glennon throws the looping TD touch pass.
*Demps later gets the right edge on a run right for about a 20-yard gain.
*McCown threads the Bucs zone for a 15-yard underneath completion to Jackson. Johnthan Banks, Dashon Goldson and Jonathan Casillas were circling Jackson.
*Guard Oneil Cousins now gets abused by McCoy. Clear holding. McCoy didn't seem to appreciate the hold.
*Michael Johnson appears to be saving his A-game for real opponents.
*Glennon pass hits Harvard tight end hopeful Cameron Brate in the head. Not a good look for the rookie.
*Glennon under heavy pressure hits Hawkins on the right sideline, 15-yard gain. Nice throw.
*Intense goal line work begins, ferocious hit by DE Ronald Talley on Mike James with second teams squaring off.
*First teams come in and Doug Martin scores four times. Wow. Anthony Collins looked punishing in run blocking. On one effort, Martin absorbed a ferocious helmet-cracking hit by Mason Foster. Jamon Meredith went down to his knees with some sort of injury on that play, but it didn't seem major. Interesting that Martin was the only short-yardage guy. Fullback Jorvorskie Lane was the lead blocker on one of the successful first-team efforts.