Joe Talks Edge Rush Fears, Offensive Expectations, Roster Options & More
August 20th, 2014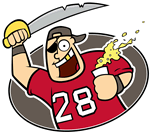 As always, Joe had fun tonight talking all things Bucs with the dean of Tampa Bay sports radio, Steve Duemig of WDAE-AM 620.
All kinds of Bucs topics were on the table, including plenty of talk about currently invisible Michael Johnson, magical Gerald McCoy, the Jeff Tedford offense, among others.
Enjoy the audio below.