Anthony Collins' Eyes Are On Carolina
August 20th, 2014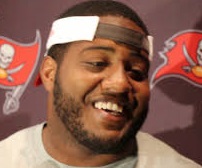 The Bucs are preparing for their big Saturday "dress rehearsal," as Lovie Smith calls it, when Tampa Bay will take on the Buffalo Bills and blade-in-the-thigh, mattress-in-the-yard Mike Williams in western New York.
New Tampa Bay left tackle Anthony Collins is getting ready, too, but he's also staying busy with more pressing matters.
Collins told Joe today he learned long ago from Bengals Pro Bowl tackle Andrew Whitworth that to be great you must intensely study your opening-day opponent, among others, long before the season begins.
So Collins has his eyes on beastly Panthers defensive end Greg Hardy. The two haven't faced each other, and Collins described Hardy as "different" than your typical edge rusher.
Joe was pleased to learn how dialed in Collins is to the football games that matter. As for Hardy, Joe hopes all his off-the-field nonsense and alleged girlfriend abusing will keep him distracted. Joe's eager for anything that might slow down the nasty good Carolina defense on opening day.