Lovie's "Rabbit, Or Whatever That Thing Is"
August 20th, 2014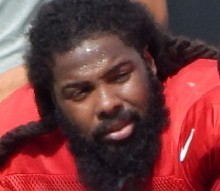 Raheem Morris used to call Adrian Clayborn "Boydog," as in half man half canine.
That wasn't just wacky Raheem talk, the Bucs' current head coach shared more animal talk for his left defensive end this afternoon.
The tone of Lovie Smith's voice turned intense when it came to Clayborn.
Lovie talked about how Clayborn has aced the transitioned to left defensive end from the right side. And Lovie revealed he was wowed by the work ethic of Clayborn, referring to his "nonstop motor" and likened Clayborn to another animal.
"Since I've been here, the guy just shows up, like an Eveready battery or rabbit, or whatever that thing is," Lovie said.
Joe talked to Clayborn earlier this afternoon, and Clayborn was raving about the coaching staff and saying his snaps on the left side of the line last year were hampered by coaching, "I really didn't know what I was doing" on the left side, he said.
Joe's not sure what Clayborn will deliver this season, but it certainly won't be for a lack of effort.