Aggravated With Logan Mankins Trade
August 27th, 2014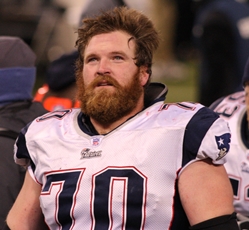 Boy, Joe doesn't know whether to laugh or cry or just pity the poor folks who live in Boston. It seems the Logan Mankins trade to the Bucs has made their lives even more bitter.
Forget their beloved BlowSux are out of the pennant race. Forget the fact that after this weekend, they have winter staring them straight in the face. Nevermind the taxes they have to cough up. Ignore they are trapped in a non-basketball association town.
Now, their best Patriots offensive lineman is gone. Gone to the Bucs. Eric Wilbur of the Boston Globe is just plain angry about it, thinking Bucs general manager Jason Licht swindled Bill Belicheat.
"[Tim Wright] also finished second on the Bucs in receiving yards (571) and touchdowns (five) after switching from receiver to tight end during his rookie year last year. Finishing second in anything on the Bucs is sort of like getting a new puppy for straight C's, but nevertheless…

There is also this: According to Football Outsiders, Wright finished sixth among all tight ends last season in DYAR (Defense-adjusted Yards Above Replacement), using a formula similar to a player's WAR in baseball. Wright had a DYAR of 133, only one point shy of Jason Witten, and only two points behind Tony Gonzalez. Vernon Davis (199), Julius Thomas (214) and Jimmy Graham (223) represented the top three in the NFL. Gronkowski's 91 was 11th in limited playing time before injury. He led the league in 2011 with a 459 DYAR, far and away the highest number in the NFL that season. But since Belichick probably treats DYAR and the like as if somebody just asked him to comment on soccer (yes, this happened on Tuesday), it's highly doubtful that Belichick just "Moneyballed" the Buccaneers by taking on an underappreciated value, even at the cost of Mankins. Belichick is smart, but odds are he doesn't have the slightest care for football sabermetrics. All he knows is this kid went to Rutgers and that is enough.

Granted, the Patriots' first-round pick in 2005 was never the same beast that he was prior to holding out in 2010, then signing a six-year deal the following summer. But to label him a "parking cone" as one Twitter follower put it, in big games, and saying he's "choked in two Super Bowls" is painting the cow a bit too brightly. Because if Mankins was "choking" against the Giants in 2012, that might mean that Brady had only a certain amount of time to get a pass off to one Wes Welker, one that he may have rushed, resulting in his receiver being played as the unfairly-criticized scapegoat. You can walk down that road if you want to, just be prepared. There will be name-calling."
It is odd reading the Boston pundits. It seems Belicheat has a fetish for Rutgers. The Boston folks grumble about Belicheat's boner for Rutgers players the way Bucs fans kvetched over former commander Greg Schiano's fondness for his former Rutgers players.
Time will tell if Mankins is just a two- or three-year rental or if Wright blows up as one of Tom Brady's favorite targets. For now, it seems like the Bucs came out way ahead of the game.