Blasting The Patriots
August 27th, 2014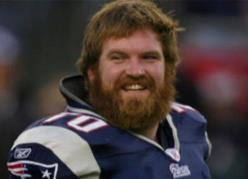 Few media types in New England are not scared of Bill Belichick like good guy and straight-shooter Tom Curran. The long-time football scribe in the Boston area now types for CSNNE.com and is never holds back.
In his reaction to the Patriots trading All Pro guard Logan Mankins to the Bucs, Curran came out blasting the Patriots for what it seems he believes to be a desperate move, that it is so unsure at tight end it had to let an icon like Mankins go.
The Patriots have made roster moves in the past that drop out of the sky like a meteor. Many times. The immediate fallout revolves around what the team will miss. Tom Brady has said over and over and over, that mental toughness is going to be what decides how far this team goes. Nobody is more mentally tough than Mankins. Brady's also said that a team has to be able to run it when the opposition knows a run is coming. Mankins is a damn road-grader. Leadership matters. Hard to find a better or more positive leader than Mankins. Do I like the move? No. I hate it. Do I understand the reasons for it? Yes I do. Do I think they should have drafted a tight end to avoid being caught short? Yes. It's all tied together.
Wow. Read those traits on Mankins? Don't think the Bucs didn't get a good deal?
Yes, there are some negatives to this trade on the Bucs end. The Bucs want to be diverse on offense. A cog to that diversity is now gone.
But to be honest, you can draw up all the pretty plays on you iPads and whiteboards all you want. Without execution (read: blocking) it doesn't matter a damn bit how cool those plays look in theory, they will all get blown up.
Mankins takes care of a major, major hole the Bucs had.