2011 Draft Class Still Hanging Tough
August 27th, 2014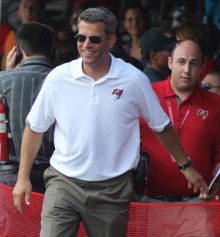 Treated as an incompetent evildoer by most Bucs fans, former rockstar Tampa Bay general manager Mark Dominik has a bigger stamp on this year's team than would have imagined a month ago.
With yesterday's trade of Tim Wright, 2011 fourth-round pick Luke Stocker has emerged with a job — a real job as this year's blocking tight end.
Other members of the 2011 draft class are thriving, too.
Adrian Clayborn had his best game in a long time starting against Buffalo on Saturday, including a ferocious sack, and Mason Foster is thriving under linebackers coach Hardy Nickerson and making all the defensive calls. Anthony Gaitor is somehow hanging around, and Da'Quan Bowers, well, he's being his usual self.
They say it takes three years to properly evaluate a draft class, but perhaps the 2011 class will take another season to properly judge. If Clayborn can stay healthy and pull an eight-sack season, and Stocker can prove he's an NFL player, Dominik might go from villain to something less severe.