"Very Mobile" Athlete At Quarterback
July 29th, 2014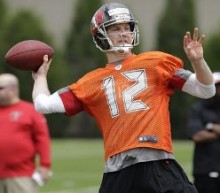 Back in March, Lovie Smith raved about how 35-year-old Josh McCown was going to surprise with his athletic ability and how his legs were very fresh by NFL standards. But now it's not just Lovie weighing in.
Vincent Jackson was drilled on SiriusXM NFL Radio yesterday to reveal strengths and weaknesses on McCown.
Jackson emphasized the Bucs' starting quarterback's athleticism multiple times, calling him "very mobile."
"Again, man, I couldn't be more impressed with just how good an athlete he is," Jackson said of McCown. "He really can make every throw, he's very athletic. We do some drills in offseason training and, you know, he's kicking butt in al this stuff and he's 34, 35 years old.

"He's a smart guy. He's a natural leader. He gets in that huddle, you know, he has a great sense of humor and just that natural leader who makes everybody so comfortable and puts everybody at ease. He has that just something special, where he can really make everybody around him better."
For the stat geeks who love track and field date, aka NFL Scouting Combine numbers, McCown is that guy on paper, a man before his time in the 2002 NFL Draft. McCown, at 6-foot-4, ran a 4.57-second, 40-yard dash, with a 38 1/2-inch vertical leap. Maybe he's lost a step, but maybe not, given how little NFL wear is on his body.
Joe just hopes McCown doesn't have to use that mobility this season, which seems likely given the state of the offensive line. A 35-year-old quarterback running for his life and taking hits isn't a recipe for the postseason.