Training Camp News & Observations — Day 5
July 30th, 2014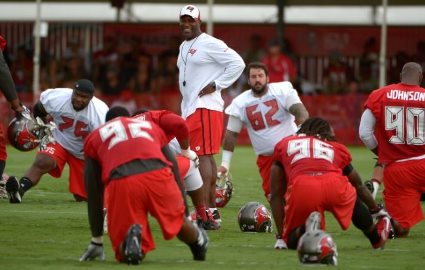 As always, Joe is your eyes and ears at training camp. Today featured some hot tempers, but plenty of other action, too.
*Loosening up and drills start practice, and hopeful wide receiver Tommy Streeter (impressive to date) drops an easy pass from Mike Glennon in drills. Not a good opening moment when you're trying to make a team.
*Interesting drill with three receivers running routes and two quarterbacks throwing them balls. What a neat way to keep a receiver's head in the game.
*Kickoff return work sees Eric Page as the clear class of the group. His catch timing is just better and smoother. On one of his three or four tries, Page got the right edge, for what would have been a long return. He was the only returner to do that.
*QBs now working on 15-to-30-yard routes with single-covered receivers. Josh McCown and Lavelle Hawkins are in sync, followed by an excellent end zone connection between McCown and Solomon Patton with Leonard Johnson all over him.
*Glennon is having a rough time, delivering a bad throw to Robert Herron, followed by an overthrow of Vincent Jackson.
*Page catches a nice back shoulder throw from McCown, no chance for Johnson in coverage.
*WRs, specifically Streeter, putting on a show in 1-on-1 drills practicing over-the-shoulder catches.
*CATCH OF THE DAY! A one-hand grab by Chris Owusu with Mike Jenkins on him. (Joe will have video later)
*Glennon out of sync with Skye Dawson. Either could have been at fault.
*11-on-11 work is intense. The first team comes out in a two-back set with fullback Jorvorskie Lane in the mix and Tim Wright in motion. Right guard is Patrick Omameh and left guard is rookie Kadeem Edwards.
*The first big splash play of the day goes to a 40-yard completion over the top of the defense to V-Jax. Rare poor play by Johnthan Banks. HOWEVER, this really was a sack by Gerald McCoy, who broke free and pulled up on McCown. Immediately, offensive line coach George Warhop is seen barking coaching to Edwards.
*Mike James running hard and low with the second team.
*Danny Gorrer with a nice break-up of a pass for Tommy Streeter.
*Third team offensive line does Demps no favors. He gets clobbered in the backfield by multiple guys.
*Screams of "finish" come from the defensive sideline at the third-team defense. Coaches aren't happy. Third-team offense then fumbles a snap. Welcome to preseason football.
*LB Damaso Munoz lays a lick on rookie RB Charles Sims. Things start to heat up.
*Lane, for a 5-11, 260-pound fullback, has soft hands and remarkably quick feet. No, he's no Mike Alstott.
*First team returns and Luke Stocker is with them. Gulp! Mike Jenkins and Johnthan Banks are at cornerback with Alterraun Verner still nursing a hamstring, apparently.
*WR Russell Shepard gets a sniff with the first-teamers but false starts. Not good.
*On the next play, defensive line coach Joe Cullen comes sprinting in to high-five Gerald McCoy.
*Bobby Rainey gets stuffed hard by Mason Foster and Will Gholston on the first-team defense.
*Rainey again drilled by Foster.
*And then came the fireworks, sparked by starting center Evan Dietrich-Smith coming after backup defensive tackle Matthew Masifilo. Dietrich-Smith was holding on and fired up in the defensive backfield when a crowd had to be broken up. But the action didn't start and end there. Intensity really jacked up at that point, but the it all seemed sparked by those fierce hits on Rainey by Foster, both in the backfield or near the line or scrimmage.
*After the skirmish, Bucs icon and linebackers coach Hardy Nickerson, who always seems to be smiling, turned angry. Hardy marched into the middle of the field and was screaming at his linebackers. Man, Joe wouldn't want to get on Nickerson's bad side. Whether Nickerson was fired up for their tough-guy play, or something else, is unclear.
*A few plays later, after a lot of helmet collisions and a short gains, Gerald McCoy emerged holding guard Oneil Cousins by the arm and firmly talking and walking Cousins back to the offensive huddle. This was not a friendly chat.
*The session ends a couple of plays later when Tim Wright, after taking a dumpoff pass from Mike Glennon, gets a borderline late lick from backup linebacker Danny Lansanah.
*Tampa Bay native and NFL Network reporter Jeff Darlington does a live hit from One Buc Palace.
*Red Zone work sees the timing of McCown and Mike Evans way off, leading to an easy pick by Mark Barron.
*Nice breakup by LB Dane Fletcher on Evans in endzone.
*Jeff Demps coughs up a ball in his hands in the end zone in coverage. He made a beautiful diving catch of a short dump off pass in the end zone, but when he landed on his belly, ball popped loose. No catch.
*V-Jax looks very sharp.
*Keith Lewis intercepts Glennon on a throw to Page.
*Chris Owusu drops a McCown pass.
*Excellent zip and accuracy by Glennon on a strike to Dawson. New cornerback Kip Edwards was all over him.
*Hhhmm… Demps, who has slippery fingers, now working with the hands team working on onsides kicks. Demps even recovered a ball!
*If Roger Goodell were here, Leonard Johnson likely already fined after drilling Skye Dawson. It was that hard.
*Final 11-on-11 session arrives. Louis Murphy, Chris Owusu and Lavelle Hawkins are first-team receivers. Pitch left to Doug Martin sees him greeted hard by Lavonte David. No gain.
*Sharp play. Lots of movement by receivers in red zone routes. McCown sharp laser over middle to Murphy for 10-yard TD.
*Glennon is off target to Shepard. Anthony Gaitor can't hold on for the pick.
*Glennon bounced back with a strike to Lavelle Hawkins for a TD in red-zone, 11-on-11.
*Final TD toss by Glennon to Tim Wright to end practice.
Stick with Joe through the night for so much more from today's practice.