Edwards' Rookie Beatings All Part Of Process
July 30th, 2014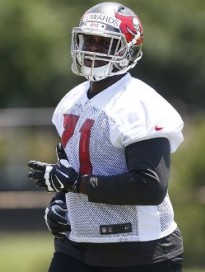 Lovie Smith's staff is a group of rather calm teachers. But there are exceptions.
And it was one of those days today for offensive line coach George Warhop and rookie left guard Kadeem Edwards.
On what seemed to many onlookers like the play of the day in practice, a 40-yard bomb to Vincent Jackson from Josh McCown, Joe saw something different. Joe's eyes were on the trenches, and Gerald McCoy beat Edwards but veered away from McCown to preserve the starting QB's health.
Immediately, Warhop was in Edwards' face with a tongue-lashing as the crowd cheered the catch that wouldn't have been during a real game.
A couple of plays later, Mason Foster delivered a lick to Bobby Rainey, and Warhop was at it again, screaming to Edwards to "make your self big." That was a reference to being strong in the hole.
"There were a couple of plays today that I screwed up on," Edwards told Joe after practice. "It's just a fast game, but I'm slowing it down each and every day.""

"He was yelling at me because I didn't fit up in the assignment that I was supposed to. I ran around a hole. It was just an error. I'm just learning as I go. That's what counts, to get the knicks and knacks out so I can be game-ready. "
It sure seems like the Bucs are all over Edwards to squeeze everything they can get out of him and whip him into a serviceable starter. As Bucs fans know, the Bucs' crop of guards is shaky, at best.
Edwards agrees that coaches are putting a lot of pressure on him, and he's been enjoying it and "thinking like a starter" since he arrived as a fifth-round pick out of Tennessee State.
Edwards told Joe he was sad that he wasn't going to get a chance to learn from Carl Nicks, but he said veteran Oneil Cousins has been a good mentor because he understands Coach Warhop's techniques from his days with Warhop in Cleveland, and is able to reinforce clearly what Edwards is learning.
At practice, Edwards says he's got one barometer for each practice. Edwards said performing against Gerald McCoy and Clinton McDonald provides everything he needs to know to determine if he's measuring up to NFL standards. "If I can keep up with them, I feel I can slow down the game. But it's really fast right now," Edwards said.