Tempers Flare At One Buc Palace
July 30th, 2014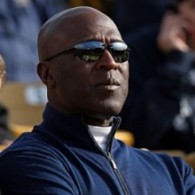 Man, it got good — and nasty and tense — about an hour into training camp practice today at One Buc Palace when 11-on-11 play resumed and was sparked by starting center Evan Dietrich-Smith coming after backup defensive tackle Matthew Masifilo.
Dietrich-Smith was holding on and fired up in the defensive backfield when a crowd had to be broken up. But the action didn't start and end there.
Intensity really jacked up at that point, but it all seemed sparked by two fierce hits on Bobby Rainey by Mason Foster, both in the backfield or near the line or scrimmage.
After the skirmish, Bucs icon and linebackers coach Hardy Nickerson, who always seems to be smiling, turned angry. Hardy marched into the middle of the field and was screaming at his linebackers. Man, Joe wouldn't want to get on Nickerson's bad side. Whether Nickerson was fired up for their tough-guy play, or something else, is unclear.
A few plays later, after a lot of helmet collisions and a short gains, Gerald McCoy emerges holding guard Oneil Cousins by the arm and firmly talking and walking Cousins back to the offensive huddle. This was not a friendly chat.
The session ends a couple of plays later when Tim Wright, after taking a dumpoff pass from Mike Glennon, gets a borderline late lick from backup linebacker Danny Lansanah.
Fun stuff from the first half of practice.
Stick with Joe through the night for more from One Buc Palace and Day 5 of training camp.