Can Inside Play Save Da'Quan Bowers?
July 30th, 2014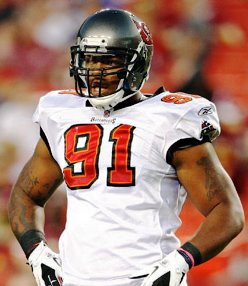 It was an interesting few hours for Bucs general manager Jason Licht last week. On Wednesday, Licht threw down the gauntlet on underperforming defensive end Da'Quan Bowers, saying he has to "prove" he wants to be with the Bucs.
A few hours later, he was told Bowers (who defensive line coach Joe Cullen called out for being out of shape — in June!) was in the best shape of his life.
To go from out of shape to being in the best shape of your life in about six weeks either means Bowers was working out like a madman during the NFL siesta season, or he was grossly out of shape for most of his life prior to last week.
By most accounts, Adrian Clayborn seems a different player (read:better) in Lovie Smith's defense and Lovie is infatuated with Steven Means' speed.
Lovie loves speed.
So it wasn't looking so good for Bowers to be with Tampa Bay for a fourth season. But maybe Lovie has found a way to keep him around and perhaps save his career, notes Pat Yasinskas of ESPN.
Defensive end Da'Quan Bowers hasn't been able to carve much of a role for himself in his first three NFL seasons. But the Bucs might be letting him try something new. Bowers has been getting some work at defensive tackle. "He can play inside,'' Smith said. "On game day, we're going to dress seven defensive linemen so we need at least one player that can play both inside and outside. Body type-wise, he's right in that area. I think he could possibly rush third down situations inside and also be able to play more of a six technique on running downs outside.''
Bowers can play inside, Lovie noted, which is not really a shock because he played inside periodically with Greg Schiano running the sinking ship last season.
Lovie knows pass rush, and if he thinks that Bowers has a prayer of playing inside, maybe that is actually Bowers' best spot and maybe this just may save his NFL days, if not his Bucs tenure.