Lovie: We Don't Need Fights
July 30th, 2014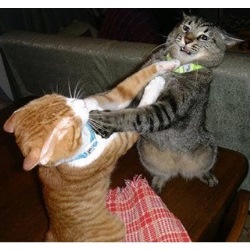 For the first time this season, the Bucs seemed were pretty intense at practice. Perhaps it was the players getting tired of beating on each other, or after a day off they were a little more fired up than usual.
Within about a five-minute period, there were two scuffles. More scrums than fisticuffs. But the fans in attendance sure liked it. To hear them talk, it showed the Bucs were intense.
Nonsense, said Bucs coach Lovie Smith after practice. He noted fighting in practice is more a waste of time than anything.
"The longer [training camp] goes, the more it gets a little chippy here and there," Lovie said. "We had a few scuffles out there. We tell the guys we don't want fighting out there. If you fight in a game you get thrown out. That's not good. We want to keep it like a game as much as possible. If you feel like you have to mix it up with a guy, fight him like you would fight your brother. No cheap shots or anything like that. And the next play, you have to go in there [back to practice."
And Lovie clearly waved off any suggestion fights in practice shows the team is ready to rock and roll in a game.
"We have had intense practices throughout" camp, Lovie said. "I don't think fighting proves you are a tough guy. We don't need fights to prove you are intense."
Lovie did say that the Bucs improved as a team today. Fights or no fights. Joe can sure say there was some hittin' going on, and it wasn't with fists.
To hear more of Lovie's post-practice press conference, click the red button below courtesy of Joe's friends at WDAE-AM 620.