Drug Test Dooms Tanard Jackson Again
July 9th, 2014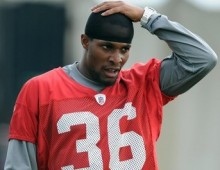 Joe's really not sure whether to feel sorry for former Bucs safety Tanard Jackson or just consider him a foolish, foolish man.
Regardless, Jackson has been suspended for the fourth time by the NFL.
That pesky substance abuse policy did him in again, via ProFootballTalk.com.
During the glory day of the Bucs defense, very rarely did a rookie start and they sure didn't get much playing time. Jackson shattered that Monte Kiffin mold. As a fourth-round pick in 2007, Jackson started the entire season for the No. 1 ranked pass defense, and the No. 2 ranked defense overall. Jiminy Christmas! Joe wishes Mark Barron could turn in a season like Jackson had in '07.
But then the suspensions came, first in 2009, then Jackson was ousted by the drug policy in 2010 and rookie Cody Grimm was inserted into the Bucs' starting lineup. Jackson made a heroic off-the-couch comeback in 2011 and was re-signed by Mark Dominik. But then Jackson was booted by the New Schiano Order and landed with Raheem Morris and Bruce Allen in Washington.
He never saw a regular season game after the NFL cracked down on him again, and then again today following a recent reinstatement.
One would think this is the end for Jackson. Joe hopes he managed to save a few bucks.