"Cuttin'" Dashon Goldson Will Report Early
July 9th, 2014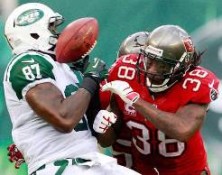 The trio of Tampa Bay safeties who played nearly all the snaps early last season, Dashon Goldson, Mark Barron and Ahmad Black, didn't get much accomplished outside of racking up fines and penalties.
Black was so bad he got cut in October and never found another team. Now he appears to be a typical carefree 24-year-old busy taking selfies and posting them on Twitter.
Goldson, aka "Hawk," had postseason ankle surgery and didn't physically participate in the Bucs' two months worth of spring practices this year. But he was busy in his leadership role and was frequently heard on the practice field and seen in the ears of Lovie Smith.
It's easy to forget Goldson was a dominant All-Pro on elite 49ers defenses that played in back-to-back NFC title games and went to a Super Bowl. It's almost like Year 2 of the New Schiano Implosion Order battered fans' brains to the point they struggle to remember.
Joe has high hopes for Goldson, assuming he figures out how to tackle within the rules, you know, like every other NFL safety.
The Hawk has been salivating and circling waiting for training camp to start. Less than two weeks ago, he told CBS Sports Radio that his Bucs-guided rehabilitation in Los Angeles is going great and he looks forward to reporting to Tampa early.
"I think I'm far along. I'm running. Everything's been good. I'm cuttin'," Goldson said. "We'll just see what the have planned for me when we go back to training camp. I'm actually going to report a little earlier just so I can check in and see where I'm at."
Is it too much to expect Goldson to return to form and for Barron to play like a No. 7 overall pick? Man, if those guys can do that, then the Bucs will have one nasty, dangerous defense.