Big Legal Day For Akeem Spence
July 7th, 2014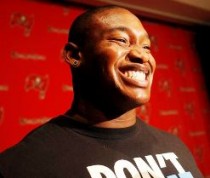 Akeem Spence could finally put his bad January day in Alabama behind him this afternoon.
Spence has been on the hook after state police claimed he was driving over 100 miles per hour while in possession of marijuana.
Spence, per a chat with Joe, got the court date bumped back to today, so he wouldn't miss any practice time with the Buccaneers. Spence also was confident the matters would be disposed of quickly and painlessly. "It's just something small. Some [stuff] that happened. It was a mistake," Spence told Joe in April.
Spence can simply pay the speeding ticket but the weed possession is a misdemeanor that can't be just paid off.
Joe suspects Spence will enter some sort of probation/intervention program. As always, it's unclear whether Roger Goodell will sit him down for a game.