Williams Remains Damaged Goods
July 7th, 2014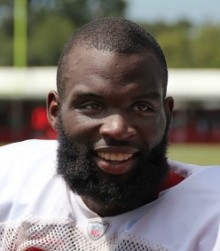 Joe's been keeping track of blade-in-the-thigh, mattress-in-the-yard, stripper-pole-friendly Mike Williams ever since the Bills coughed up a sixth-round pick for him in April.
They've been loving Williams up in his hometown Buffalo.
Highlight catches from OTA days made it to the Bills' official website, and Joe heard sports radio praise of Williams for his effort and (gasp) eagerness to mentor super rookie Sammy Watkins.
(No, Joe never bought the wacky ESPN report that circulated this spring claiming Williams might have a hard time making the Bills roster. For one, Williams has a guaranteed contract, and those guys don't cut unless they do something really stupid. Plus the ESPN reporter was claiming Williams might lose the job on the field.)
But what does intrigue Joe is how Williams recently told the Buffalo News that he's not close to healthy following hamstring surgery last fall.
Williams said he's at about 80 percent in his recovery from surgery to repair a torn hamstring. Initially, his practice workload was bigger, but the injury began to give him trouble as spring practices wore on.

"We started off where they threw me out there and I was just going every rep, and then the leg started getting to me," he said. "Then they started holding me back more and more. But then I started getting my leg back.

"I'm almost there. Like, I keep telling them I'm at like 80 percent, they telling me I'm at 70 percent. We going back and forth, but I think I'm getting there. With this month right now until camp, I think I'll be 100 percent coming into camp."
So Williams is a wide receiver with a bad wheel. Last Joe checked, those guys don't perform well and kudos to Jason Licht for landing a high sixth-round pick for him. That selection turned out to be speedster slot receiver Robert Herron, who flashed a lot of talent during spring practices, though he had plenty of drops early in OTAs.
Even if Williams is "80 percent," that's injured. And hamstrings have a nasty habit of lingering. Joe wishes Williams well.