Another Tampa Bay Title Prognostication
July 5th, 2014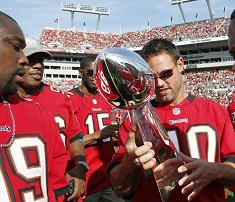 Glory days Bucs assistant coach Herm Edwards, who after stints as Jets and Chiefs head coach now works for BSPN, is already on record calling a Super Bowl for Tampa Bay this season.
Some might find that to be roguish commentary, but not one top NFL Network analyst.
Former star Patriots defensive end Willie McGinest likes what he sees from Lovie Smith and his "good enough" quarterback in Josh McCown, yesterday's birthday boy. McGinest believes the Bucs will win the division this year, their fourth NFC South title, the most of any team since the group was formed in 2002. The Panthers, Saints, Bucs and Falcons all own three division crowns right now.
You can catch the NFL Network video discussion here. Colleague Jamie Dukes picks the Saints.
Joe's loving all the optimism. Hey, it's early July, why not? But it still doesn't feel grounded in reality. Not yet.
McCown has such a tough job ahead in finding a way to get his offense firing hot out of the gate against two nasty defenses in Weeks 1 and 2, Carolina and St. Louis. And there's going to be a learning curve for the Tampa Bay defense, too.
For the Bucs to win the division, they're going to have a find a way to start the season very strong, given they have three division games in their first five weeks, as well as a tough early schedule. That's simply a gigantic hurdle for any team in transition.