Never Approached Playing "As My Plan A"
July 5th, 2014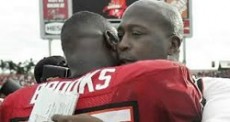 We're now exactly four weeks from the day Derrick Brooks gets deservedly enshrined into the Pro Football Hall of Fame.
What a glorious day that will be.
Brooks sat down recently with Players Circle of Champions to chat about lots of things that didn't have to do with football, though he explained how one of his veteran teammates getting cut had a huge impact on him.
That was a life-changing, devastating moment for Brooks, he said, and got him on the phone immediately to Florida State University to find out what he needed to do to obtain a master's degree while playing for the Buccaneers.
Brooks also talked about how playing football was not his "Plan A" and much more. If you're into success stories and mindsets of successful people, then this is the podcast for you. Listen below.