Teaching, Learning How To Miss
June 27th, 2014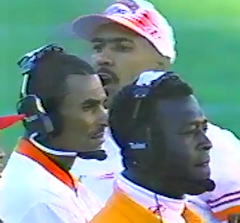 The esteemed man who predicts the Bucs are headed to the Super Bowl this year also says Tampa Bay's defense has critical learning to master first.
Speaking recently on 99.3 FM in Fort Myers, glory days Bucs secondary coach Herm Edwards was passionate about how his friend Lovie Smith will run the old-school, Tampa-2 defense but can't run it well if his teaching isn't absorbed quickly.
Edwards gave a fun verbal clinic on tackling in the Tampa-2, and how Lovie must teach the many newcomers to the system — in a hurry.
"You gotta know where your help is at. You have to know where to miss, and that's why we were a good tackling team in Tampa," Edwards said. "Guys understood the concepts, of when the coverage was called and where the ball was thrown, where to miss."
Edwards dove into those conceptual elements, including how cornerbacks can never miss a tackle on the outside of the offensive player.
"There's always another element running from inside out. You can never miss a tackle from outside in. There's a seal factor, where you seal the guy with the ball and you make him turn back into the interference that's running after you. And Lovie's going to teach that. This defense is predicated that way.

"You gotta play with a lot of eyeballs seeing the ball being thrown. Or, obviously, your gap responsibility when it's a run. What gap do you have? You know, there's only seven gaps. You gotta be able to cover a gap. The eighth element will be the strong safety, no different than when John Lynch played for us and that guy's going to be the free hitter. He's going to have to make the tackle in space. This is how the defense is run."
It was great to hear Edwards' passionate discussion. Joe enjoyed it, though it was nothing hardcore fans and Tampa-2 students had haven't heard previously. On whether Lovie Smith reached out to Edwards to coach in his new regime, Edwards dodged the question and said he has the best job in the world as an analyst for BSPN.
Since both Dashon Goldson and Mark Barron were hurt and not practicing during spring practices, it's still unclear which of those two will play the John Lynch role, the "free hitter" Edwards referenced.
Lovie has yet to answer that question. Joe just hopes both are healthy enough to keep that from being an easy decision.