Two Starting Quarterbacks?
June 27th, 2014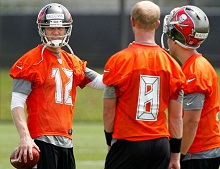 Sage NFL coaches, and even new ones, know much of their success comes down to quarterback play.
The Rex Grossman types just aren't good enough any longer in the modern NFL. Questionable QBs don't land in Super Bowls nowadays.
Former Jets and Chiefs head coach, and ex-Bucs assistant head coach, Herm Edwards, shared some of his wisdom about quarterbacks on 99.3 FM in Fort Myers recently.
It was especially interesting to Joe because Edwards was asked to take a step back and re-evaluate his head coaching career — just like Edwards' friend Lovie Smith did last year — and say what he would do differently if he got a chance to be a head coach again.
"What I would do, I would make sure that I had two starting quarterbacks. When I had a good one, I was always in the playoffs. When I played with five in about three of my seasons being a head coach, it didn't turn out real good. That's kind of how it works," Edwards said.
Joe wonders whether Lovie Smith had the same revelation last year. Perhaps Lovie looked at Mike Glennon and saw a starter but told himself he wanted two starters, including one that was better than the young guy leading the 32nd-ranked offense?
Regardless, it's an interesting take from Edwards as it might relate to Lovie.
Bears fans know too well what happened when Jay Cutler went down in the 2010 playoffs, and in 2011, when Lovie turned to not-yet-revitalized Josh McCown and Caleb Hanie.