Report: Nicks Will Appear But Won't Practice
June 10th, 2014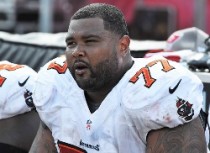 The headline really says it all. Per the Twitter account of Bucs beat writer Rick Stroud, guard Carl Nicks will show up for the start of Tampa Bay's mandatory three-day minicamp, which begins this afternoon.
But Nicks' bum foot is still ailing after two surgeries: one to carve out a MRSA infection, and one for an extreme turf-toe-like issue. He won't practice today, per Stroud.
Nicks has been absent from multiple voluntary spring practices this season. Showing up today would spare him a fine.