Tedford Has His "Control Freak" In Place
June 10th, 2014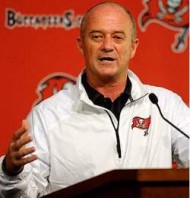 There's a control freak on the Tampa Bay roster and his name isn't Greg Schiano.
And nobody's going to tune out this guy like some did the former head coach.
Offensive coordinator Jeff Tedford makes it clear he is close with Aaron Rodgers, the most famous college quarterback to study under him. Tedford chatted about their recent barbecue time in a secluded region of northern California. And Rodgers helped sell Tedford to Lovie Smith.
So it's interesting that the Bucs targeted Green Bay center Evan Dietrich-Smith in free agency. Rodgers was vocal in his support for the Packers to retain Dietrich-Smith, who was a starter last season and was lauded in Green Bay media for his astute line calls and responsibility in the passing game.
But now he's a Buccaneer, and offensive line coach George Warhop called Dietrich-Smith a "control freak" last week.
Warhop was quick to tell reporters that wasn't a negative because he likes his centers to be "control freaks." But it's interesting to Joe that Dietrich-Smith has emerged as a dominant personality so fast.
Joe thinks that's good, especially on a new offensive line with thin talent that needs to jell in a hurry. Big money left tackle Anthony Collins is more of a quiet leader/hard worker type. The same could be said of Demar Dotson. So it seems the door was wide open for Dietrich-Smith to take charge, and that's what he's doing.
Given Tedford's connection to Rodgers, the Bucs likely knew exactly what they were getting with their new center. And part of that appears to be a level of leadership Jeremy Zuttah wasn't going to offer.