Lovie Embraces The Broil
June 10th, 2014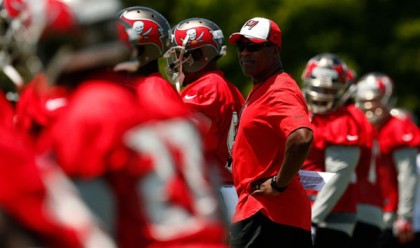 The Buccaneers' 2014 mandatory, three-day minicamp kicks off today, and already something stands out.
That would be the start time.
Practices are all scheduled to begin at 1:30 p.m. and end at 4 on the sweltering, open fields of One Buc Palace.
Lovie Smith is embracing the broil. He wants his team feeling the heat in a big way. Lovie easily could have had morning practices like he did during Spring OTA practices. But Lovie has opted for the full throttle heat of the day.
Joe's even heard rumblings at Bucs headquarters that Lovie might keep an afternoon practice schedule in training camp. Taskmaster Greg Schiano was an early-morning guy.
Lovie, of course, was a linebackers coach under Father Dungy's glory days Buccaneers. Joe remembers those two-a-day, and three-a-day practices at the University of Tampa, back when the NFL let players beat the crap out of each other endlessly at the head coach's discretion. Joe's sure Lovie remembers those days, too. He's unafraid of the heat's effects, and he wants to toughen players up. The NFL labor agreement gives players get six weeks of mandatory vacation when this minicamp ends Thursday.
Lovie has said he wants the maximum home field advantage when the whistle blows at 4:15 p.m. for the home opener against Carolina in Tampa. That likely includes having guys used to getting after it in the afternoon summer heat.