Open Door Policy For Father Dungy
June 11th, 2014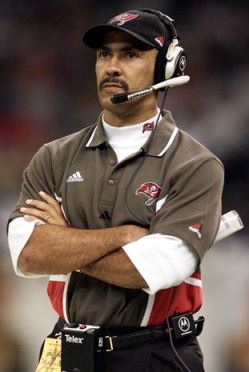 Former Bucs coach Father Dungy, the man who built the foundation of the glory days Bucs from cellar dwellers to division champs, has been a frequent visitor to Tampa Bay practices of late. Of course, Father Dungy and Bucs coach Lovie Smith are tight, and defensive coordinator Leslie Frazier and linebackers coach Hardy Nickerson are considered branches of the Father Dungy coaching tree.
If it was up to Lovie, Father Dungy would be a permanent fixture, not just once a week or so.
"Why wouldn't you want him here?" Lovie said in his post-practice press conference. "He doesn't need to tell us when he's coming. Just show up."
Occasionally, Father Dungy will chat with Bucs defenders, especially the defensive backs. Today, D.J. Moore was seen asking Father Dungy for advice, "picking Tony's brain," Lovie called it.
And Lovie is good with that.