Day 2 Minicamp Practice Notes & Observations
June 11th, 2014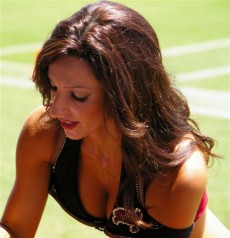 Joe braved a lightning delay at One Buc Palace this afternoon to soak in every last move of your beloved Bucs on Day 2 of their mandatory minicamp.
Here's Joe's observations, and a whole lot more:
*Your first team offensive line, from left to right: Anthony Collins, Kadeem Edwards, Evan Dietrich-Smith, Patrick Omameh, Demar Dotson
*Kick return. First option up was Chris Owusu with Bobby Rainey in front blocking, filling the "off returner" role. Second up was Skye Dawson with Mike James. Third in line was Charles Sims with Jeff Demps leading. Eric Page up next with Rainey as "off returner." Mike James also worked in one return during the session.
*11-on-11 work begins! Sliding catch by Chris Owusu in right flat.
*Vincent Jackson drop scooped up by Rashaan Melvin. INTERCEPTION. Melvin was running with the first-team defense, with Danny Gorrer at the other corner. Keep in mind Alterraun Verner is sitting out with a minor injury.
*Skye Dawson drops a ball in the gut from Mike Glennon with the second team.
*A Luke Stocker sighting. A five-yard dumpoff from Glennon.
*Tommy Streeter catches Glennon bomb, 45 yards, with Kip Edwards, the tryout cornerback, in coverage.
*After field goal work  — none were missed — 11-on-11 work started up again with some wide runs followed by a very pretty crossing-route connection from McCown to Owusu.
*Rainey gets a first-team backfield sniff.
*Melvin slips covering V-Jax. If that happened in a real game, it would have been a huge gain. No, Joe won't assume V-Jax would have had the wheels to break off a 60-yard TD run.
*Demps appears in the first team backfield but the throw goes to Dawson, a 20-yard rope from McCown. Completion. Second team in and Glennon throws a perfect dart to Dawson over on a crossing route, 10-yard completion.
*Center Dietrich-Smith having a passionate chat with a lot of healthy finger pointing with left tackle Collins. All this going down while second-team is in action.
*Reverse! Interesting look. Perhaps one of those Jeff Tedford mysteries.
*Carl Nicks walking around with his linemates with no visible limp and traditional black sneakers on his feet.
*Adrian Clayborn lining up at left defensive end with second team defense. Steven Means on right side. Clayborn also took some first team reps at LDE, as did William Gholston. Means tried swim move on Collins. Major fail by Means, who got off balance.
*Demps appears in backfield on short yardage work. Perhaps he can jump, as well as fly?
*Sweet Glennon touch pass to Streeter with second unit.
*Lotta hollering "Chicago, Chicago. Chicago" when team began field goal practice.
*Though it is underwear football with no hitting, Collins is owning Means.
*On a pass play, Michael Johnson came flying in on an inside loop and had their been hitting, McCown would have been flattened. Like a junebug on a windshield.
*McCown completes a rope to Eric Page in heavy traffic. Three defenders around Page. Next play? McCown and Page are out of synch and Page appears to slip coming back for ball. Welcome to spring underwear football.
*Gorrer drops sure interception in his hands. Groans come from the bench. McCown and Owusu appeared to have their signals crosses on that play.
*INTERCEPTION! Play of the day by Melvin. Just ripped the ball out of the air — and hands — of Owusu. McCown picked.
*DROP! Wide receiver Russell Shepard. Safety Kelcie McCray slaps himself in the head for dropping slipping in coverage. Wet field?
*Players coach Lovie Smith releases players early and doesn't make up time from roughly 20-minute weather delay.