David Enjoys Working With Nickerson
June 11th, 2014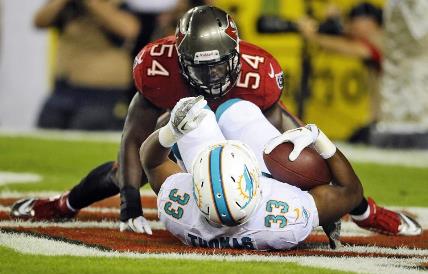 Soon to be Hall of Fame linebacker Derrick Brooks will tell anyone who will listen that he learned so much about being an NFL linebacker from Hardy Nickerson.
The former Pro Bowl middle linebacker was a rare bird, wanting to come to the Bucs as a high-priced free agent when most free agents avoided Tampa Bay as if the team was infected with the Ebola virus.
The line of top-notch Bucs linebackers began (in the modern age) with Nickerson followed by Brooks, followed by Lavonte David. (Yes, Joe knows Shelton Quarles was a Pro Bowler, too.)
Now, past and present are united. Nickerson is David's position coach. And the pupil is absolutely loving it.
David is a low key dude. But when asked about working with Nickerson after minicamp practice today, David completely lit up, showing rare emotion (read: a pulse and a smile).
"It is amazing," David said of working with Nickerson. "He always has a smile on his face. He is always getting amped up. You can tell he wishes he could be out there. It kind of raises your level. You want to put a smile on his face the way he coaches."
What a great direct line of stud linebackers, Nickerson to Brooks to David. And now, the father of Bucs linebackers (with apologies to Batman Wood), is teaching the next Bucs linebacker star.
Pretty cool.