Lavonte David Ranks 35th In NFL Top 100
June 18th, 2014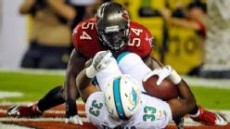 September was a bad month to use the word "rigged" in the Bucs locker room, around the time Greg Schiano was accused of manipulating the Buccaneers' captaincy vote so Josh Freeman would not win it.
But cornerback Darrelle Revis still used that word.
Revis said the Pro Bowl would be "rigged" if Lavonte David didn't make it. (Keep in mind that was early September.) Reporters jokingly told Revis he made a bad word choice and Revis laughed, almost hysterically, and started playfully asking to have that comment stricken from the record.
But the point was made: a true NFL superstar knew very quickly that David is a real-deal stud.
David was snubbed from the Pro Bowl, but he did make the All-Pro team, which only counts select media votes.
And now David has a new honor, players across the NFL voted him to the NFL Network Top 100 of 2014. David ranked No. 35, as revealed tonight.
It's a pretty impressive award for a guy who avoids the spotlight, isn't overhyped, and has played for two losing teams in his two NFL seasons. Derrick Brooks has said David is significantly better than Brooks was at the same age and experience.
Just 24 years old, David's best years should be ahead of him. It sure is hard to believe the same Bucs front office pounced on Adderall-popping, spa-day-loving Eric Wright just five weeks before it seized the shot to draft David in Round 2 of the 2012 NFL Draft.