Bucs GM Tips His Cap To Clayborn, Spence
June 19th, 2014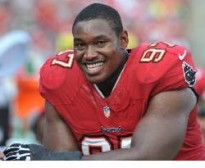 Bucs defensive linemen weren't allowed to touch — and certainly not hit — anyone during spring practices, but Bucs general manager Jason Licht didn't hesitate to name the D-line as his standout bunch of the recently concluded OTA and minicamp sessions.
It's the season of reading between the lines, so Joe finds this quite significant.
Licht made his proclamation last night in response to a question from the dean of Tampa Bay sports radio, Steve Duemig of WDAE-AM 620.
"Anybody stick out in your mind, an individual, unit or effort?" Duemig asked. Licht didn't hesitate.
"I was impressed with that defensive line unit," Licht said. "You know, Michael Johnson was in and out. We were making sure that he didn't get injured any further; he had a little tweak. But Clinton McDonald, Gerald McCoy, obviously, and wow is he impressive. I mean maybe I shouldn't be saying this during contract negotiations. But that whole unit, Clinton McDonald, Adrian Clayborn, Akeem Spence — those guys really, really were impressive, not just with their effort but their movement, their athleticism and just the speed that they are playing."
Does it mean anything that Licht singled out five D-linemen? Maybe. Maybe not.
What's most interesting is the praise of Spence. Lovie Smith has said his nose tackles are pass rushers first. The head coach doesn't believe in run-stuffing D-linemen. So perhaps the Bucs are seeing the pass rush skills in Spence that the New Schiano Order claimed he had?
Keep in mind at Lovie's news conference introducing Clinton McDonald and other free agents, Lovie was clear that McDonald won't just be rushing inside. Lovie said he had the speed to rush from various positions.
So if McDonald gets some edge-rush looks, then maybe it would be Spence who slots inside to rush between McDonald and McCoy?
As for Clayborn, he split first-team reps at left defensive end with Will Gholston during the mandatory minicamp.
It's going to be darn interesting to see how Lovie rotates his pass rushers and sets the depth chart. Joe can't imagine that failing to get to the quarterback will be tolerated.