Doug Martin Won't Be Devalued (Much)
June 30th, 2014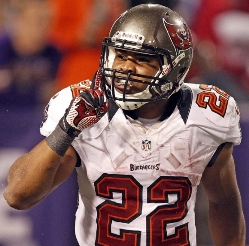 When the Bucs drafted Charles Sims in the third round back in May, it sure did open up a lot of eyes. Joe is guessing Doug Martin's agent's antennae really stood up straight, when in the hours after picking Sims Lovie Smith noted the Bucs were really looking for a pass-catching running back, hence the selection of Sims.
Wait a minute? Couldn't Martin catch the ball? This had Bucs fans scrambling for the hidden agenda (even though, there really wasn't one).
Was Martin about to be traded? Cut? Was he going to be devalued?
Joe thought right away the selection of Sims came with a goal of limiting Martin's pitch count in order to extend his career. The way Martin was used by former Bucs commander Greg Schiano, Martin's career life expectancy was short.
And while some may believe Martin's worth could be devalued by the Bucs, do not count Greg Auman in that group. The Tampa Bay Times scribe thinks Martin may just be as valuable as he has in the past.
.@TonyD_12 Hard to put a percent on it. Martin had 49 catches as rookie, so I think he'll catch plenty. Just not 25 carries a game …

— Greg Auman (@gregauman) June 30, 2014
This seems to make a whole lot of sense, especially if you believe the Bucs will be running an up-tempo offense most of the time, sort of a two-minute drill at any time in the game.
The best way to burn a running back out is to constantly feed him the ball in the running game. Martin is as much a threat to run the ball as he is to catch the ball out of the backfield. Just his mere presence in the game keeps a defense honest. Until proven otherwise, that he can run the ball effectively, having Sims in the backfield in a one-back set all but signals the Bucs are passing.