Urlacher: Bucs Have "Crackhead" & The Athlete
July 1st, 2014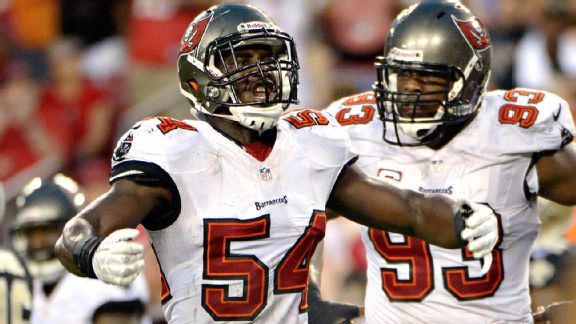 Lance Briggs? Derrick Brooks?
The 18 total Pro Bowls between those guys are nice, but neither is the athlete Lavonte David is, explained former Bears great Brian Urlacher.
It was a stunning take from the future Hall of Famer who played nine seasons for Lovie Smith in Chicago. Speaking in a Bucs season preview for FOX, Urlacher raved about David and explained.
"Lance was great. Brooks was great, but this guy athletically and speed-wise, there hasn't been a guy who played that position like him physically," Urlacher said of David.
Urlacher also explained the Bucs have the "crackhead" they'll need to make David a superstar.
"Create havoc. Get up the field. Pick a gap and go. They'll call him a crackhead," Ulracher said of Gerlad McCoy's role. "Just pick a crack and go. That's what his job's going to be. Every play is a pass down. That's what that defense is going to let him do. "Just go up the field. If it's a run, react to the run. But every play is a pass down. … Take up two guys, let your linebackers run."
The FOX roundtable crew was very high on the Bucs defense. Donovan McNabb is high on Mike Jenkins and even called Mark Barron and Dashon Goldon two of the most feared safeties in the league.
The annual July optimism is flowing big-time.