McCown Lauds Wright Option
June 11th, 2014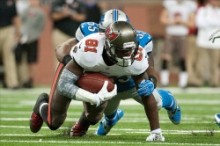 Those who love to read between the lines might take note of starting quarterback Josh McCown lauding just one tight end, Tim Wright, during a national radio interview yesterday.
On Jay Mohr Sports, heard locally on WDAE-AM 620, McCown hit on various subjects.
Joe found McCown's "feel really good about" Wright comment, quoting Wright's stats from last year, to be noteworthy. McCown also dove into detail when pressed to explain why he's OK being a low-paid starter in the NFL. Among other factors, McCown said the reality of him only making five starts last year was key.
Enjoy the audio below.